Cooking With Propane Tips
Get the Most Out of Your Grill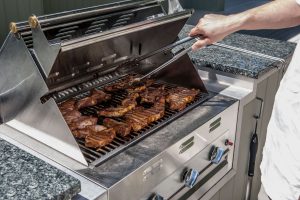 Always begin with a clean grill. Preheat your gas grill for 10-15 minutes.
When cooking hamburgers, impress a thumbprint in the middle on both sides for even cooking and to keep burgers from bulging.
For juicy, sizzling hamburgers, add 4 tablespoons ice water to each pound of ground meat. The grill heat will seal in the moisture and provide your guests with mouth-watering, juicy burgers.
Don't pass off burnt hot dogs as "blackened" dogs again. Grill the dogs until the skin turns light brown, turn heat to low and cover the dogs with a foil roasting pan. Leave covered about five minutes to build up steam and finish cooking the dogs.
When selecting ribs, ask the butcher for "3 and down." This means you want the slab of ribs to be less than 3 pounds. Larger racks must be cooked longer to make them as tender.
Use aluminum foil to cook vegetables on the grill. On a large piece of aluminum foil, cut up your favorite vegetables, sprinkle with spices such as rosemary, thyme, garlic, parsley, or basil and toss with melted butter or oil and vinegar dressing. Fold aluminum foil around vegetables and cook over medium heat until tender – about 20-30 minutes.
Ears of corn in the husk can be placed directly on a medium high grill for 10 minutes, then peel back all but the last layer of husk and cook for 5 more minutes for tender, melt-in-your mouth corn on the cob.
For perfect kabobs, pack the ingredients loosely on the skewers to allow pieces to cook through, and use two skewers 1/4″ apart. Thread your meats and vegetables on to keep meats from spinning and vegetables from falling into the fire.Source: BQHQ.com; abcnews.go.com: Hearth, Patio & Barbecue Association
Grilling Safety Tips
Food safety is just as important as safe care and maintenance of your grill.
To prevent foodborne illnesses, the Partnership for Food Safety Education recommends following these simple steps when grilling:
When shopping, buy cold food like meat and poultry last, right before checkout.
Separate meat and poultry from other food in your cart to prevent cross-contamination.
Keep meat and poultry refrigerated or frozen until ready to use. If you won't be using the meat within 1-2 days, then freeze it.
Meat and poultry should be completely thawed before grilling so it cooks more evenly. Meats can be thawed in the refrigerator, under cold running water or in the microwave, but never on the counter. Meats thawed in the microwave should be used immediately.
Marinate foods in the refrigerator, not on the counter. If you want to use the marinade on your cooked meats, make sure it is brought to a rolling boil first.
Before preparing any food, wash your hands and cooking surfaces with soap and water.
Use separate cutting boards for raw meats and ready to eat foods.
Don't use the same platter and utensils for raw and cooked meat and poultry.
Always use a meat thermometer to be sure the food has reached a safe internal temperature — 160°F for hamburgers, medium steaks, pork, and other meats and 180°F for poultry. Seafood should be opaque and flake easily. Remember to wash the thermometer with soap and water after each use. NEVER partially grill meat or poultry and finish cooking later. While 57% of consumers listed food safety as their primary concern, only 14% regularly use a meat thermometer when grilling.
Grilling grates must be hot (at maximum temperature for at least 10 minutes) for proper grilling.
Hot grates will sear the meat, keep the juices inside and prevent it from sticking when turning it over. If it sticks, it's not ready to be turned over.
After cooking, it is important to clean the grill, even if it doesn't look dirty. Leave the grill on high heat for 10 minutes then scrape away the charred remains finishing with a wire brush. Allow to cool and wipe lightly with vegetable oil to help prevent sticking next time.
Recipes
Pineapple Rum Boats
1 fresh pineapple, quartered
1/3 cup melted butter
1/4 cup brown sugar
3 tablespoons dark or spiced rum (or 3 tablespoons rum flavoring)
1/2 teaspoon ground cinnamon
1/4 teaspoon ground nutmeg
1/8 teaspoon ground cloves
Melt butter in saucepan. Add remaining ingredients and bring to a boil. Cut pineapple away from shell and slice into 1″ thick pieces. Baste pineapple with butter/rum mixture. Wrap pineapple leaves with aluminum foil to prevent burning. Place shells with basted pineapple on grill over medium heat for 15-20 minutes until pineapple is warmed through. Serve with cookies or ice cream.

– From Weber Recipes for the Grill
Hot and Sweet Spice Rub
2 teaspoons chili powder
1 teaspoon paprika
1 teaspoon firmly packed brown sugar
1/2 teaspoon flour
1/2 teaspoon garlic salt
1/4 teaspoon ground cinnamon
1/4 teaspoon ground allspice
Pinch of black pepper
Kosher or table salt to taste
In a small bowl or plastic sealable bag, combine all the rub ingredients. Use as a rub for 2 to 2 1/2 pounds of beef, poultry, or pork. Coat the food lightly with a little oil before applying the rub.

Makes 2 tablespoons.

Cook's note: Adjust the spices to taste as desired. For a spicier rub, add ground cayenne pepper to taste.

– From Grilling for Dummies by Marie Rama and John Mariani
Maple-Glazed Chicken Breasts
6 large boneless, skinless chicken breasts, washed, patted dry
2 teaspoons freshly ground black pepper
Kosher salt or other coarse salt to taste
Maple glaze:
1 tablespoon vegetable oil
2 uncooked bacon slices, chopped
1 plump garlic clove, peeled, ends removed, minced
3 tablespoons maple syrup
1 teaspoon Worcestershire sauce
Vegetable oil cooking spray
Place the chicken breasts between two sheets of plastic wrap. Pound to a 1/2 – to 1/4 inch thickness. Coat the chicken breast with the black pepper and salt to taste. Cover and refrigerate while preparing the glaze.

To prepare the glaze: In a medium skillet, warm the oil with the bacon over medium heat. Fry until the bacon is brown and crisp. Using a slotted spoon, remove the bacon, drain and set aside. Stir the garlic into the pan drippings and saute 1 minute. Remove the skillet from the heat. Stir in the maple syrup and Worcestershire sauce; set aside.

Preheat the grill to medium.

Remove the chicken from the refrigerator and let it sit, covered, at room temperature while grill heats (about 10-15 minutes). Just before grilling, lightly spray the chicken breasts with vegetable oil cooking spray.

Grill the chicken, uncovered, over medium heat for 5-6 minutes per side, until it is opaque but still juicy. Brush with the glaze when you turn the cooked side of the chicken up, and coat the second side when it comes off the grill (breasts should be 180°F internally). If grilling covered, cook the chicken for about 10 minutes, turning once midway and glazing as above.

Serve the breasts whole or sliced and fanned; sprinkle the reserved bacon over the top.

Makes 6 servings.

– From Born to Grill by Cheryl Alters Jamison and Bill Jamison